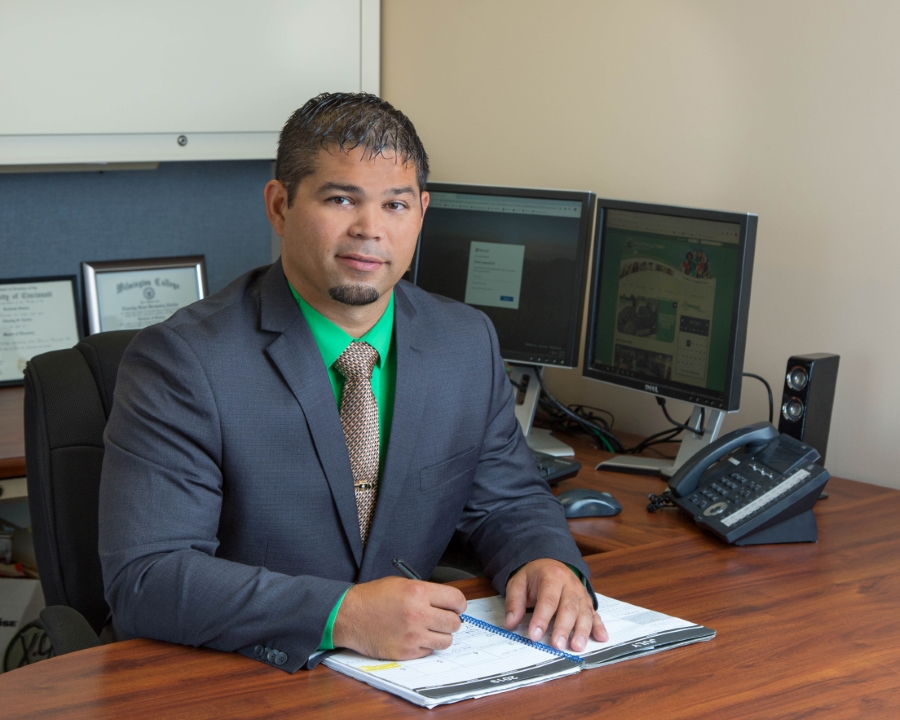 SUPERINTENDENT TIM CARLIER'S MESSAGE
Hello! My name is Tim Carlier, Superintendent of Fayetteville-Perry Local Schools. As a graduate of Fayetteville, I am honored to enter my third year as superintendent, and I am excited about the continued opportunity to serve the students, staff, and community of my hometown, Fayetteville, Ohio.
During my fifteen years in the district, I have been fortunate to serve in a variety of roles; these have included teacher, assistant principal/athletic director, principal, and now superintendent. Those experiences, along with my active involvement in the community, have enabled me to understand the needs of our community. Above all, we must provide the opportunity for all students to receive a quality education and the necessary guidance that will lead them to a successful future. As your superintendent, I assure you that is my top priority.
The past school year has been a roller coaster ride of changes with health orders and mandates from the state. When many school districts across the state were on remote learning full-time, Fayetteville-Perry Local Schools was only on remote learning for 12-days in the middle/high school and 13-days in the elementary for the entire 2020-2021 school year. I am truly proud of our staff, students, parents, and community for making this academic year a success!
As of June 2nd, when Ohio Governor Dewine lifted all health orders and mandates, the Fayetteville-Perry Board of Education followed suit and passed a resolution to lift all health orders and mandates that affect our school district. We are confident that we will move forward with a normal start to the 2021-2022 school year while continuing certain reasonable practices to keep students safe. We will allow students to bring their own water bottles and use the water-refill stations. We will continue to promote good personal hygiene and handwashing on a daily basis. We will have a new custodial position to assist in maintaining the cleanliness in all of our buildings. We will allow students and staff the opportunity to wear a face mask if they choose. In the end, we want all of our students, staff, parents, and community to feel comfortable when at Fayetteville-Perry Local Schools!
In June, I sent out a link for the parents/guardians and community to complete a survey on how we should invest our ARP ESSER III Funds we received due to COVID-19. I appreciate all the individuals who completed the survey, and I am taking your input into consideration when making financial decisions for our district. At this time, we are focused on student growth across the district with our goal for all students to obtain at least 1-years growth during the upcoming school year. To help us reach this goal, we have made some exciting changes for the 2021-2022 school year. First, we have invested in Chromebooks for all elementary students grades K-5 to prepare them early for success throughout their education at Fayetteville and beyond. We have created a Math Coach position in the elementary to provide support for student success. We have created a district-wide Data/Instruction Coach position to provide support for our teachers to continuously improve instructional strategies and to successfully utilize the educational tools the district has already invested in. For our students who struggled during Covid-19 and fell behind academically, we have created an E-Learning Facilitator position, who will work one-on-one with students who are credit deficient to get them back on track to graduate high school on time. Unfortunately, the effects of COVID-19 weren't just academic and student mental health is a rising concern; therefore, we have teamed up with Child Focus to provide additional assistance in the high school. Our district will now have a Child Focus Counselor or a Guidance Counselor in every building who will be readily available to support the needs of our students.
As we plan for the 2021-2022 school year, I am excited to get back to normal and watch our young people succeed in their academics and extracurricular activities. I want to see our students, parents, and community build strong professional and personal relationships, make positive memories, and continue our tradition of excellence! If you have any questions, please feel free to call me at 513-875-4500.
Have a great day and an amazing school year. And As Always … GO ROCKETS!
Tim Carlier
Superintendent
Fayetteville-Perry Local Schools
Fayetteville-Perry Local Schools